In this session of 'Fireside Wisdom with Childless Elderwomen', Jody Day (founder of Gateway Women) and her #NomoCrone panel (Nomo=not mother + crone is not an insult!) discuss the sometimes challenging topic of mothers & daughters – a tricky relationship for many of us, and with a unique flavour if you are childless not by choice.
Recorded on the March 2023 Equinox; a time of turning away and turning towards, depending on which hemisphere you live in; and falling the day after Mother's Day in the UK & Ireland, this felt like a poignant moment in the wheel of the year for this powerful, tender and taboo-busting conversation.
We hope you enjoy our very frank discussions on how we deal with any guilt we might feel about not giving our mother grandchildren, about ending the 'grief Olympics' between us, about blame and forgiveness, about toxic and tricky mothers, about boundaries, intergenerational trauma and ancestral healing, about caring for our mothers whilst caring for ourselves and mothering ourselves. It was a truly incredible conversation and I learned so much myself.
This conversatation was recorded live on 20 March 2023 and you can watch it here now. You can watch past sessions here and sign up to Jody's mailing list for future sessions here.
Thank you to our #NomoCrone panel.
---
To find out more about the emerging 'Gateway Elderwomen' project, and to watch previous sessions of Fireside Wisdom, click here.
---
YOUR HOST: JODY DAY (UK/IRL) is the 58-year-old British founder of Gateway Women (since 2011) and the author of Living the Life Unexpected: How to Find Hope, Meaning and a Fulfilling Future Without Children (PanMac 2016/2020). Chosen as one of the BBC's 100 Women in 2013 & a UK Digital Woman of the Year in 2021, she's a global thought leader on female involuntary childlessness, a psychotherapist, a 2017 and 2022 TEDx speaker, a founding and former board member at Ageing Without Children and a former Fellow in Social Innovation at Cambridge Judge Business School. She's also an Ambassador for World Childless Week and an Advisor at the New Legacy Institute, an interdisciplinary policy institute dedicated to institutional and social equity for non-parents. She lives in rural Ireland where she's trying to finish a her first novel and nurturing her emerging Gateway Elderwomen project.
---
SUE FAGALDE LICK (US) is 70 and is the author of the memoir & blog 'Childless by Marriage' and most recently 'Love or Children: When You Can't Have Both', as well as novels, journalism & poetry. A musician and singer, she is widowed and single. www.childlessbymarriageblog.com
---
ELIZABETH GRAMBSCH (USA) is in her late 50s and is a musician, performance coach and licensed Gateway Women workshop facilitator. Elizabeth has shared Germanic and Obijwe heritage which deeply informs her approach to ancestral healing and reintegration after trauma. She and her husband are childless due to health-related issues and after multiple miscarriages. elizabethgrambsch.com
---
SUSAN DOWRIE (AUS) is 60 and a long-time member of the Gateway Women/Lighthouse Women Online Community, as well as having hosted the Gathering for Brisbane members for several years. A student and practitioner of NVC (Non-Violent Communication), Susan is single and childless due to not meeting the right man. https://gateway-women.com/community/
---
MARIA HILL (US) is in her mid-70s and is the founder of Sensitive Evolution and a leader/coach in the field of HSP experience and growth as well as an inspiring entrepreneur, fine artist and writer. She is a long-time member and volunteer moderator of the Gateway Women/Lighthouse Women online community, and the creator of the marvelous 'Magic of Joy' program. Maria is divorced and childless by marriage. sensitiveevolution.com
---
STELLA DUFFY OBE (UK/NZ) is 60 and lives in the UK. She is an existential psychotherapist pursuing doctoral research into the embodied experience of postmenopause and a yoga teacher teaching yoga for writers. She's the author of seventeen (yes, you read that right) novels, over seventy short stories, as well as plays, feature articles and reviews. She and her wife are childless due to cancer treatment and subsequent failed IVF. http://stelladuffy.blog
---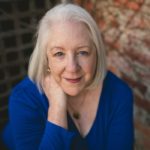 DONNA WARD (AUS) is in her mid-60s and is a writer, editor, publisher and former psychotherapist from Western Australia who now lives in Melbourne. Her fiction and personal essays have been awarded and published internationally and her 2020 memoir She I Dare Not Name: A Spinster's Meditations on Life was published by Allen & Unwin Australia in March 2020 and is now also available in the UK and US. donna-ward.com.au You can see a video/written interview Jody did with Donna about her book here.
---
TRISH FAULKS (UK) is 73 and blogs regularly and candidly about being a widower and single childless elderwoman living alone in a small Lincolnshire market town with her dog Lilley. An only child of an only child, she is childless due to her infertility in her marriage in her early twenties. Her subsequent partner died many years ago now.  www.justmeandlilley.co.uk
---
CIVILLA MORGAN (US) is an author, blogger, and podcaster including her long-running Childless Not By Choice show. A former finances and investment professional, she was a caregiver for her mother at the end of her life and is now caring for her father. In her spare time, which she says hardly exists, she spends time reading, cooking and traveling. She is single and childless not by choice. https://www.civillamorgan.com/