To celebrate the US publication of Donna Ward's brilliant memoir, 'She I Dare Not Name: A Spinster's Meditations on Life' we hope you enjoy this GW Masterclass on 'Celebrating the Spinster'. To join us at future GW Masterclasses sign up at www.bit.ly/gw-masterclass
As I wrote in my 2020 interview with Donna Ward about her book:
She I Dare Not Name: A Spinster's Meditations on Life energised me in a way that few books still have the capacity to do, so eloquently and accurately does it portray not only 'the life unexpected' (to paraphrase my own book's title!) but also, the life 'invisible' which is that of the unpartnered, childless woman in our society. In a world focused and built on the needs, attitudes, prejudices and 'stories' of those who couple and have children, to be a 'Spinster' (a term which Donna reclaims and explains in our interview) is still one of the most stigmatized, problematized and ridiculed identities for a 21st Century western woman to occupy; to do so with dignity, candour, grace and humour as Donna does shows a grittiness of character few of us possess.
Even writing those words together 'Celebrating' and 'Spinster' feels shockingly counter-cultural. And that's something that fascinates me and which we'll be exploring in this chat. But first of all, let me introduce you to my three amazing guests.
---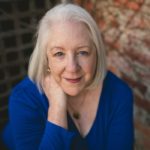 DONNA WARD (AUS) is a writer, editor, and publisher. She holds two degrees from the University of Western Australia: a Bachelor of Arts in Classics, Ancient History and Economics, and a Bachelor of Social Work. Throughout the 1980s and into the 1990s she worked in social policy development, welfare program design, implementation and management before she changed careers and set up a psychotherapy practice and management consultancy. In the late 1990s she turned her talents to creative writing, editing and publishing when she established and edited the literary journal, indigo, the journal of Western Australian creative writing, and later the online poetry magazine, Sotto. Moving to Melbourne in 2011, where she now lives, she founded the nationally respected micro-publishing house Inkerman & Blunt. Her fiction and personal essays have been awarded internationally, and appeared in literary journals nationally and internationally such as Southerly and Island magazines, as well as the Huffington Post, and The Big Issue. Her memoir "She I Dare Not Name: A Spinster's Meditations on Life" was published by Allen & Unwin Australia in March 2020 and on June 1st publishes in the US as both an ebook and in paperback. (Available on Kindle now, and pre-order the paperback on Amazon or ask your local independent bookshop or library to stock it.) You can read the first chapter of her book on the Allen & Unwin website here and connect with Donna on Instagram and Twitter. Donna's website is www.donna-ward.com.au
---
CIVILLA MORGAN (US) has a passion for words, writing and speaking and communicates this as an author, blogger, and podcaster including her long-running podcast Childless Not By Choice. She loves to help others and feels truly in her element when encouraging others to be all they can be. She believes that communication is key in every relationship and that we must find our best form of communication and then practice it.  In her previous life Civilla worked in healthcare, hospitality, and financial services – in fact, she was once a stockbroker. Civilla loves the financial services industry and can talk for hours about the markets and global finance. In her spare time, which she says hardly exists, she spends time reading, cooking and traveling. Civilla also loves the beach and says any moment she can spend at any beach is a moment of relaxation, renewal, and therapy! She is single and childless not by choice. You can find Civilla Morgan on Facebook, Twitter, Instagram and You Tube (where you can also listen to her podcast interview with Donna Ward) and LinkedIn. Civilla's website is www.childlessnotbychoice.net
---
SHANI SILVER (US) is a writer and podcaster originally from Texas and living happily without the need for a car in Brooklyn. She's the host of A Single Serving Podcast and a humor essayist focused on changing the negative narratives around being single. Shani's work helps singles reframe the limiting societal messages they take in that are almost exclusively focused on dating, as if singles aren't allowed to care about anything else. Single people are whole, valid beings capable of living infinitely amazing lives. Relationships are fantastic, and we deserve to have them, but Shani knows we don't deserve to be miserable in the meantime. You can connect with Shani on Twitter & Instagram and support her writing on Medium. Shani is childfree by choice and very empathic to those for whom childlessness was not a choice, as you can hear when she interviewed Jody on the single & childless experience for her Single Serving Podcast. Shani's website (pronounced Shay-nee) is www.shanisilver.com
---
As well as a live reading from Donna's book (if you haven't heard/read it, you're in for a BIG TREAT), some of the things we discussed included:
What does the word 'Spinster' mean and how is it different from the general term 'single' which may include being a single-parent and is assumed to be a transient state?
What are the key implications of being a Spinster?
How does one learn to live with extended solitude, and what has that been like in the pandemic?
If you are hopeful of a future partnership, what are the consequences of repeated rejections on the heart and soul?
If you are not interested in a relationship, what does society make of that?
How do we deal with the stigma and prejudice against Spinsters?
What are the implications for female friendship with childed and/or partnered friends?
What sort of financial considerations have to be taken into account for life alone, and why might this be so difficult for women?
How does the experience of Spinsterhood vary between those who are born to it, those achieve it and those who have it foist upon them?
How do we encourage the de-centering of dating and the pursuit of partnership as a route to fully living as a single person so that we can create more of a balance and allow us to live the life we're actually living?
---
YOUR HOST: JODY DAY (UK/IE) is the British founder of Gateway Women, the global friendship and support network for childless women with a social reach of c.2-million. It started as a blog in 2011 and celebrates its 10th Anniversary in 2021. Jody is the author of 'Living the Life Unexpected: How to Find Hope, Meaning and a Fulfilling Future Without Children' (Bluebird/Pan Mac UK). Chosen as one of the BBC's 100 Women in 2013, she's a global thought leader on female involuntary childlessness, an integrative psychotherapist, a TEDx speaker, a social entrepreneur, a founding and former board member at Ageing Well Without Children and a former Fellow in Social Innovation at Cambridge Judge Business School. In 2021, was chosen as one of Digital Women's 40 Women to Watch and is also a finalist in their 'Digital Role Models' category. Often referred to as the 'voice of the childless generation' and less often but more memorably as 'The Beyonce of Childlessness', Jody's a proud World Childless Week Champion and PLICA Ambassador. She lives in rural Ireland where she is working on a novel featuring an accidentally kickass, middle-aged, single, childless heroine and her new 'Conscious Childless Elderwomen' project. You can find Jody most days in the Gateway Women Online Community (on Mighty Networks) and @gatewaywomen on both Twitter and Instagram.