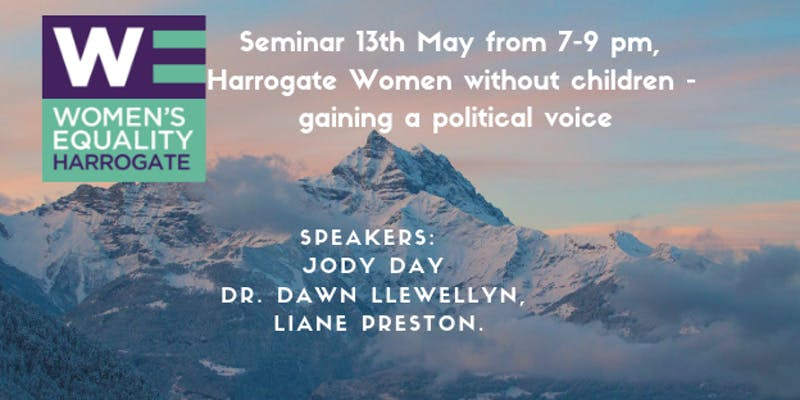 Come and join me and three other women without children who will be speaking at an evening seminar in Harrogate (North UK) on Monday 13 May devoted to exploring the issues of childlessness and its absence from political rhetoric and policy planning. Tickets are only £6.35 and if you need somewhere to stay, we can find a local WEP or GW members who'd be happy to help out! Click here to book
This is not a 'political' evening (I know that everyone in the UK is utterly fed up of 'politics'!) but rather it's an open discussion about the experience of being a woman without children in our society. Because the personal still is, political…
Whether it's the systemic unfairness around childlessness in the workplace, the shocking lack of provision for those ageing without children or the devaluing of women without children as fully adult members of society, we've got a lot to talk about!
The Harrogate WEP event is very much aimed at opening the dialogue with mothers too and finding a way to create a new kind of discourse that neither overprivileges motherhood
nor
devalues women without children. I wrote a blog about this which you may have seen –
Whether they're damning us or praising us, mother's so often don't 'get' women without children'
– which illustrates some of the difficulties we seem to face. (It's got 43 really interesting comments so do check it out).
---
I'll be speaking about
language and loss and their role in creating a more inclusive society for all women.
Drawing on my personal experience of the devastating impact of involuntary childlessness, and as the vault of thousands of stories of heartbreak from childless women, I'll be speaking about the personal, familial and social impact of the grief and identity loss of involuntary childlessness. And the uncomfortable and necessary conversations we need to have in order to create a more inclusive language around motherhood and non-motherhood so that all women feel they can contribute more fully to society. You can find me as @gatewaywomen on
Twitter
or
Instagram
---
Dr Dawn Llwellyn
from the University of Chester will be speaking about
pronatalism and the childfree choice
– an exploration on a personal, social and systemic level into pronatalism and her personal experience and professional research into the complex and messy process that women engage with as they make their decision not to have children. You can read more about Dawn's work her and engage with Dawn here on Twitter at
@DawnLlewellyn
---
As well as speaking about her personal experience of motherhood ambivalence leading to involuntary childlessness, Liane Preston – a psychotherapeutic counsellor from Edinburgh who works with involuntary childless women will be speaking about childlessness in the workplace – drawing on her past experience as a former Head of HR in the corporate world and her current work as the facilitator for the Gateway Women workshops in Scotland. Read more about Liane here.
---
Rebecca Manson Jones is the WEP Spokesperson for Equality and Health. She and her husband are childless after multiple miscarriages and failed IVF in her 30s. She has been a WEP candidate three times and its first-ever local council candidate in the Lewisham Council Elections 2018. Professionally Rebecca is currently the Interim Director of Oily Cart the UK's leading touring theatre creating immersive work for early years, children and young people with complex needs and Autistic Spectrum conditions and deaf/blind young people. In her personal life, Rebecca has experience of the Health and Social Care systems as an end of life carer and as a patient. You can read Rebecca's blog here and connect with her on Twitter @JustRMJ
---
Women without Children – Gaining a Political Voice
Harrogate WEP Seminar
Monday 13th May 2019, 7pm-9pm
The Harrogate Club
Victoria Road
Harrogate
North Yorkshire
HG1 5PR
Tickets on Eventbrite here.