In the Northern Hemisphere, the Winter Solstice on/around 21 December is the shortest night of the year and is celebrated as such by our ancestors. They knew it presaged the return of longer days and shorter nights, the return of the 'Sun/Son'. It was a festival of rebirth and renewal at the promise of another year of warmth and food to come. 
This conversatation was recorded live on 21 December 2022 and you can watch it here now. You can watch past sessions here and sign up to Jody's mailing list for future sessions here.
Filmed on Wednesday 21 December on Zoom with a group of Childless Elderwoman. We hope you enjoy our ponderings on this turn of the year, and this turn in our personal and collective consciousness. Scroll down to find out more about the wonderful panellists of #NomoCrones (nomo = not mother and crone is not an insult!)
Download the resources and panelist details/links slides as PDF's here (links only for reference, not clickable).
---
But what does Renewal mean to you?

---
To me, Renewal feels like a warm cosy blanket placed over me as I sit quietly in a darkened room, lit only by firelight. I long for that soft quiet, that chance to breathe in the woodsmoke and let the deep changes of this year settle into their new configurations in my shaken-up consciousness.
For me, 2022 has been a powerfully transformative time of personal and professional change, one that has involved some really hard decisions, not all of which have been well-received or understood. But as I move closer to the threshold of my sixties, this is something else I am letting go of – putting the need to be liked and understood ahead of trusting my intuition about what is right for me, my life and the time I have left on this earth. There is a whole new body of work and experience that is longing to be revealed through me and it demands space, time and my full attention. Even writing that feels like a kind of Renewal because there is so much delicious, excitable energy within what wants to be; I am hungry for it and it is hungry for me. But right now, for me, Renewal is currently about letting go, and with the letting go always comes more grief. Because that's grief's job, to sweep up the ashes of burnt-out dreams and identities and prepare our soul's threshold for what's next – even when we don't really have a clear idea of what 'next' looks like yet…
Renewal means something both similar and different to some of our #NomoCrone guests. This is the wisdom of our elders that so many come to these Fireside Wisdom Sessions for. Here are just a few of the things they are chewing over in preparation for coming together at the Solstice…
I think there is a real hunger for renewal because of the exhaustion people feel right now. And you have to shed in order to get to the renewal, which can be hard to do given the demands in our lives. I find myself questioning a lot of those demands and trimming them to free my energy and attention. I find myself less tolerant of so many things that I find wasteful and want to focus on nourishing activities and people.
I'm all for renewal – and for the fire that clears the ground, the quake that shakes the earth, the darkest possible moments that all tend to come before renewal, genuine renewal, is possible… Renewal asks for some giving up first, I think.  And I think that's ok.
I think as non-moms we renew, redesign, respond over and over again in life.
For humans, renewal comes most deeply through relationship with the non-human world. It is in our ancestral and cultural heritage… it is a practice which can open our tired hearts to the support of the Old Beings who are there just waiting for an invitation back into our lives.
Renewal is very current for me, though I might be more likely to call it "newal" as I seem to be in a new place, exploring a new way of being, letting go of what doesn't seem to serve (well it's not really letting go, just not interested, which makes it easy to not do), with hands and heart open to what comes next.
Renewal is the eternal process of waking up to more of my truth whatever shape or form it needs to take.  I guess I used to associate renewal with stepping through some major threshold or gateway and now I see and feel it almost as a daily practice – the renewal of my day, my breath, my being.
---
To find out more about the emerging 'Gateway Elderwomen' project, and to watch previous sessions of Fireside Wisdom, click here.
---
YOUR HOST: JODY DAY (UK/IRL) is the 58-year-old British founder of Gateway Women (since 2011) and the author of Living the Life Unexpected: How to Find Hope, Meaning and a Fulfilling Future Without Children (PanMac 2016/2020). Chosen as one of the BBC's 100 Women in 2013 & a UK Digital Woman of the Year in 2021, she's a global thought leader on female involuntary childlessness, a psychotherapist, a 2017 and 2022 TEDx speaker, a founding and former board member at Ageing Without Children and a former Fellow in Social Innovation at Cambridge Judge Business School. She's also an Ambassador for World Childless Week and an Advisor at the New Legacy Institute, an interdisciplinary policy institute dedicated to institutional and social equity for non-parents. She lives in rural Ireland where she's trying to finish a novel and nurturing her emerging Gateway Elderwomen project.
---
STELLA DUFFY OBE (UK/NZ) is 59 and lives in the UK. She is an existential psychotherapist pursuing doctoral research into the embodied experience of postmenopause and a yoga teacher teaching yoga for writers. She's the author of seventeen (yes, you read that right) novels, over seventy short stories, as well as plays, feature articles and reviews. She and her wife are childless due to cancer treatment and subsequent failed IVF. http://stelladuffy.blog
---
MARIA HILL (US) is in her mid-70s and is the founder of Sensitive Evolution and a leader/coach in the field of HSP experience and growth as well as an inspiring entrepreneur, fine artist and writer. For many years, Maria has been following the teachings of Ayurveda as a way to support her health and is also a reiki master and a veteran practitioner of TM (transcendental meditation). She is a long-time member and volunteer moderator of Gateway Women's private membership community (now called 'Lighthouse Women' and the creator of the marvellous 'Magic of Joy' program. Maria is divorced and childless by marriage. sensitiveevolution.com
---
PAMELA TSIGDINOS (USA) is 59 and is the author of 'Silent Sorority' (2009), the first infertility-and-after memoir not written by a mother, and 2015's 'Finally Heard' which moves beyond the personal to examine the complex inter-relationship of the psychological, social and cultural implications of 'Generation IVF.' An award-winning journalist, researcher and truth-teller about the realities and the aftermath of ART (assisted reproductive technology) her newest paper, An IVF Survivor unravels 'fertility' industry narratives, was published in a special issue of the Journal of Marketing Management in 2022. www.silentsorority.com
---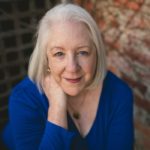 DONNA WARD (AUS) is in her mid-60s and is a writer, editor, publisher and former psychotherapist from Western Australia who now lives in Melbourne. Her fiction and personal essays have been awarded and published internationally and her 2020 memoir She I Dare Not Name: A Spinster's Meditations on Life was published by Allen & Unwin Australia in March 2020 and is now also available in the UK and US. donna-ward.com.au You can see a video/written interview Jody did with Donna about her book here.
---
KATE KAUFMANN (US) is an unabashed elder in her late 60s and the author of Do You Have Kids? Life When the Answer Is No. Kate's blog for Psychology Today, Unapparent, explores the lives and issues faced by non-parents in a pronatalist world. A World Childless Week Ambassador, she is childless after infertility treatments with her ex-husband. www.katekaufmann.com
---
JACKIE SHANNON HOLLIS (US) is in her 60s and is the author of "This Particular Happiness: A Childless Love Story" about her journey to making peace within her marriage to a man who chose not to have children. For many years, she worked as a counsellor in addiction treatment and later worked in human resources. She now lives in Portland, on the west side of Oregon. She and her husband, Bill, lead workshops on communication, conflict management, and building successful relationships and she also facilitates creative writing workshops for people experiencing houselessness and other hardships. And as a survivor of sexual assault, Jackie writes and speaks about the unfolding impact of sexual assault on survivors and those who love them.  www.jackieshannonhollis.com
---
SUE FAGALDE LICK (US) is 70 and is the author of the memoir & blog 'Childless by Marriage' and most recently 'Love or Children: When You Can't Have Both', as well as novels, journalism & poetry. A musician and singer, she is widowed and single. www.childlessbymarriageblog.com
---
SUZAN MUIR (AUS) experienced a powerful and intentional rite of passage in her early 50's to become a young elder. Her passion for the fascinating complexity of self-generated food and energy systems has fueled her lifelong vocation of weaving sustainable connections between humans, plants, animals, soil and sustenance. She is also passionate about working with women at all stages of their lives to deepen their connection to their authentic and powerful inner selves and to the natural world through nature-based programs. The grief of living her life without children and the forest surrounding her home have been her greatest teachers. grampiansnatureprograms.org
---
TRISH FAULKS (UK) is 73 and blogs regularly and candidly about being a widowed and single childless elderwoman living alone in a small Lincolnshire market town with her dog Lilley. An only child of an only child, she is childless due to her infertility in her marriage in her early twenties. She and her then-husband tried to adopt but were turned down and she learned not to speak of her childlessness to anyone due to the awful comments people would make. The marriage ended, in part due to their childlessness and both of them found new partners. Trish then set up a successful corporate estate agency which she enjoyed running for many years until she sold it and retired. Her partner died many years ago now.  www.justmeandlilley.co.uk
---
KAREN MALONE WRIGHT (US) is 65 and the founder of The NotMom, the site for women 'childless by choice or by chance' and The NotMom Summit. She now co-hosts 'The NotMom Conversation' on YouTube. Karen and her husband are childless for health reasons. www.thenotmom.com
---